UHRCares Supports Families


There are many stressful situations that can arise in a families life. Displacement, financial trials, hurtful situations, medical emergencies are just a few. All take a toll on a persons emotions. Sadly the children are caught in the middle. Nothing brings a smile to a child's face quicker than a stuffed Bunny or Bear, or any soft fluffy animal, except for maybe a pocket full of candy. Actually these treats bring a smile to the face of most adults also. UHRCares visits family service centers and try's to provide a few of these treats where possible.
How often have you visited the hospital emergency room or surgery waiting room an seen a parent struggling to control or console their children because of an emergency situation. The strain on both parent and child can be almost unbearable. UHRCares provides stuffed animals to the hospital for the staff to hand out to the youngsters.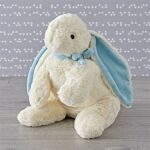 The UHRCare staff visits hospital waiting rooms, Community Family Service Centers and Soup Kitchens to distribute stuffed animals to the kids and Milky Way candy bars to adults.
If a family is thought to be in a financial situation to were they can not provide a meal for their children, UHRCare provides the parent with McDonald gift cards for an evening meal.
~~  UntilHeReturns  ~~